Water Quality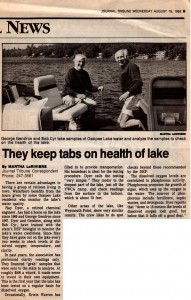 Since 1977,  our association has collected valuable water monitoring data in conjunction with the Volunteer Lake Monitoring Program (VLMP) and the Maine Department of Environmental Protection. Water samples are drawn from the deepest part of the lake every 2 weeks from April through October.
Secchi Disc Transparencies are a direct measure of the water clarity and an indirect measure of algal growth. Unless a lake is highly colored or turbid from suspended sediment, transparency readings of 2 meters or less generally indicate a severe algal bloom according to the 2006 Maine Lakes Report. Little Ossipee Lake transparency readings are typically between 6.0 and 7.9 with occasional readings above 9.0 meters. Basic chemical information includes water temperature and dissolved oxygen measurements at every meter down to 20 meters.  Water samples are also submitted for Total Phosphorus and Chlorophyll-a monitoring.
Test results continue to show the water quality of Little Ossipee Lake to be excellent and the potential for nuisance algal blooms is considered to be low. For additional information contact the Maine VLMP.